How to fix Bluetooth sound quality with Windows 10 on Dell XPS 13 (9333)
Poor sound quality
After a few weeks of suffering terrible sound quality when connecting my bluetooth headphones to my laptop, I spent a little time searching for a solution and turns out it's an incredibly simple fix.
My laptop is a 2014 Dell XPS 13 (9333) running Windows 10 and my headset is the brilliant (but terribly named) Plantronics Voyager Focus UC.
Sound quality when the headset was connected to my iPhone was perfect, and I was using Spotify on both, hence it pointed to something wrong on the laptop.
Drivers were all up to date, so I searched around to see if anyone else was reporting similar problems.
It didn't take long to find a thread on the Dell Community which offered some solutions and in turn linked to this post by Michael Visser which describes the fix steps.
In short, it's caused by the Bluetooth connection defaulting to the 'wrong' profile - choosing HSP (Headset Profile) over A2DP (Advanced Audio Distribution Profile). As the names suggest, the former profile is lower quality for phonecalls, the latter is high quality audio streaming.
To fix the problem, we need to tell Windows to ignore the Headset Profile, so instead it defaults to high quality A2DP profile.
Solution
Open the Devices and Printers dialog from the Control Panel, or by starting to type 'Devices' in the start menu to get the match

Under the Devices section, double-click the Bluetooth device you want to update to launch the Properties dialog.
Select the Services tab, then uncheck the Hands-free Telephony box.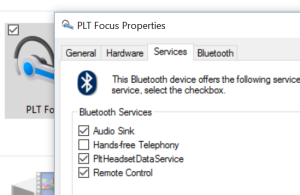 Press Apply, then OK.
Reconnect your Bluetooth headphones and the sound quality should be much improved.
I've tested this on my Dell, but the fix should work for any Windows 10 machine.
---
Comments